Archive for September, 2006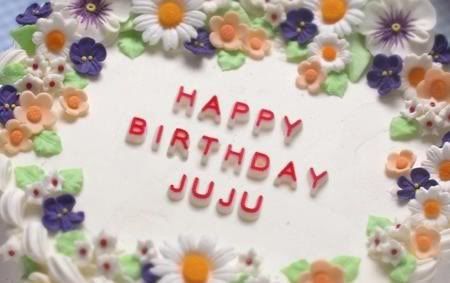 Yup! It's my best friend's bday today. So please wish her everyone. LOL. Now I don't know how many will wish on time but whatever. Waise I know I could not send you a gift or any thing like that but you know those things does not really matter :p. Hope you had a blast today on your Birthday. O, btw, here's something for you. It's only for JUJU to click so everyone please stay away from it.
Hope you like it. :p OH & I am stealing the balloons from someone so I hope that someone does not mind :p.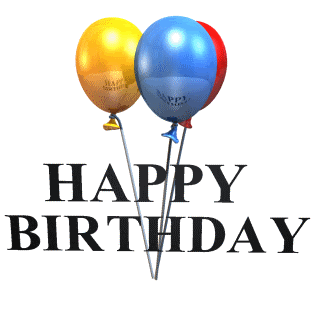 Oh & here is a little Computer geeky way to wish you Happy Birthday! Right click HERE and click Save as then play it and enjoy!
I know this isn't much yaar but this is all I could find. I am trying to look for a poem, hehe, I am too dumb to write one you know so I hope this is enough. Ofcourse it should be. You are featured on The Patri0t's BLOG :p so be happy now. Hehe.
With lots of prayers, wishes and good luck for your future. Forever friends!
If giving their rights to women (which are told by our religion; Islam) and supporting those rights is feminism, then I am a proud feminist. I read a column by, "Kishwar Naheed" yesterday in the newspaper. I would like to ask the ones sitting in parliaments of Pakistan as to what are they doing for the women who are oppressed. Where are those mullahs and their wives who are always talking about the Government degrading women? Where are those "MUSLIMS" who according to them are using their privilege of maximum 4 wives. These "MUSLIMS" marry to fulfill their "DESIRES", why would they marry a woman with stinking mutilated face or body? They forget the "SUPPORT" part always. They just remember they won't be able to hitch hike her in the bed.
Here I am with the translation…
With the increase in oppression on women, more and more have visited me personally and told me their stories. I am conveying few of them here for you to read so you come to know about the injustices in our society and so you shed tears and go through the phase in which currently I am.
"My name is Naseem, mother of three. My husband married the maid who used to work in our house. Now he demands me to leave the house along with our kids. Tell me where should I work so I can get a place to stay under with my kids. This incident if of no remote area in Pakistan but our own Islamabad."
"My name is Shamim Akhtar. I am 20 years old. I was kidnapped, raped and then acid thrown on me so I am never able to tell names of the people who did all this with me."
"My name is Sabira Sultana. I was forced into marriage when I was 15. My husband was 35 years old. My husband's complain was that I did not bring dowry. One day he threw me in fire and vanished. I have no one, no relative who will go to court for me or report him to the Police."
"My name is Azra. A relative threw acid on me as according to them, my sister was divorced. I belong to Jatoee tribe of Sind. What would have happened if I had filed a case, my whole body is ROASTED."
"My name is Nasreen. Having blue eyes was my fault. Straying guys would whistle on me while I would pass through the street. My brother could not see this. He brought a bottle of acid and threw it over my face when I was sleeping. My skin is bady damaged, all of my hair gone. I am blind now. I don't have ears that I will hear nor a nose that I will smell a fragrance."
"My name is Parveen. My husband's family burnt me by throwing the gas stove on me. Despite of all this, I am still living in that home. I am hardly able to see Musarrat Misbah since 2 years. Perhaps I find the peace which was snatched long ago."
"I am Saira, 22 years old. I was married. My husband put forward demand for huge sum of money to my parents instead of the dowry. My poor parents could not arrange the money. He threw acid on me. One of my eye is intact, I am trying to learn embroidery and sewing."
"My name is Parveen Akhtar. My fault was the fact that I did not give written permission to my husband for his 2nd marriage. He pour oil and set me on fire. I shouted and ran, people saved me. I was punished for I could not give birth to a child."
"My name is Naseera, 17 years old. I am Afghan but living in Pakistan. My fault…I declined a marriage proposal. I was sleeping when he came and threw acid on my face and body. I am alive in this hell and searching for him. I will do the same to him if I find him."
"My name is Zubaida. My husband used to marry poor girls for his desires. If a girl declined, he would put oil and set her on fire. I also fell prey to him. I am finding him so I can burn him too but he has vanished."
"My name is Shomail Jan, I am from Afghanistan. I was thrown into fire but I lived. Half of my body is burnt, despite that, I will not allow him to live in peace."
"My name is Iram, used to be a college student in Rawalpindi. A guy proposed me, I declined and was angry on him. Next day while passing in the street, he threw a jug full of acid on me. I tried to save my self and he threw the rest of it on my clothes."
"My name is Tasneem. I live in Karachi. I worked as a maid in homes in order to feed my drug addict husband and his family. They were still not happy, always cursed me for not brining any dowry. One day they put oil on me and set me on fire, they gathered people and told them I was working in kitchen when the stove blew up. I am a divorcee now but will never forget those animals."
"My name is Basheera. My husband pushed me on a lit stove and burnt me, he told everyone that I fell on stove and burnt my self. I was not able to leave my home after this due to shock. I gave birth to 5 kids. They leave me everyday on the road, people throw money in front of me. They come from home and take me at evening They are very happy on my life."
"My name is Mumtaz, 39 years old, living in Khairpoor. My fault was that I did not allow my husband to sell our daughters. He burnt me with acid and still sold them."
"I am the Fakhira Younis who was thrown upon acid by son of a politician. I am mother of that cursed's son. An Italian woman has adopted him. I am permanently living in Italy and doing treatment for the last 5 years with fear of that husband."
She talks a little about "Musarrat Misbah". She is known as a beautician here in Pakistan. She helps the women who are burnt by fire and acids. No one can fill the injuries of soul, but she gets their operations done and give them hope. She also takes them to Italy for treatment if necessary. I will write about "Musarrat Misbah" one day insha'Allah.
Do you like the following? I do. I simply love the dialogues of this movie and the way "V" acts and talks…
Remember, remember the 5th of November
The gunpowder treason and plot
I know of no reason
Why the gunpowder treason
Should ever be forgot
But what of the man?
I know his name was Guy Fawkes…
and I know in 1605, he attempted to blow the Houses of Parliament.
But who was he really?
What was he like?
[b]We are told to remember the idea and not the man.
Because a man can fail.
He can be caught,
he can be killed and forgotten.
But 400 years later…
an idea can still change the world.[/b]
I have witnessed first hand the power of ideas.
I've seen people killed in the name of them…
and die defending them.
But you cannot kiss an idea…
cannot touch it or hold it.
Ideas do not bleed.
They do not feel pain.
They do not love.
And it is not an idea that I miss.
It is a man.
A man that made me remember the 5th of November.
A man that I will never forget.
Blow the houses of Parliament…Same goes for the ones sitting in the parliaments of Pakistan. The morons, the hypocrites, the lunatics, the tyrants, the murderers, the bloody looters, the idiots, those with beards but no respect for Islam just their bloody politics, the ones who rape, the ones who DRINK, the ones who spend billions on nothing except their own needs, the ones who suck the blood out of poors and their own people. Do they deserve to live? Hell NO! I am waiting for my "V"…Are you?
So I see no body missed me. I am back khair se. Was having a bad throat and really did not feel like coming online and updating things. Got the following for our new home computer, the budget this time for our computer was higher than the last time (4 years ago), had saved some money. Spent it all here… :-D
* Intel Core 2 DUO E6300 1.83 Ghz
* 512 MB DDR2 533 Kingston RAM
* Western Digital 250GB SATA-II 8MB Cache
* COOL CASING
* CD-ROM Drive (From old computer)
* SONY DVD-Writer
* XFX GeForce 6200 with Turbo Cache 128MB (Expandable to 256MB)
Waiting for the following to arrive.
* ASUS P5B Deluxe (From Shing Technologies Karachi)
* Philips 17 inch LCD Monitor
* Thermaltake Big Typhoon (Through a sweet friend in the US)
* RAM heatsinks (SAME AS ABOVE)
* Harddisk cooler – Heat sink sort of with 2 FANS (SAME AS ABOVE)
Already paid for the Motherboard to Shing Technologies. According to the person who talked to me from the day one. It has arrived but is in CUSTOM CLEARANCE at Karachi Airport. Only Allah knows if he's true or not, trusting them anyways. Shing Technologies isn't a SCAM. Oh & the problem now is for the POWER SUPPLY. The casing I bought in 1800 Rupees came with it's 300 Watts power supply, that's not enough for the usage. Was searching around the Internet when found a website which showed a motherboard melted because of a generic power supply.
The problem here is simple, it might be written even 550 Watts on the power supply but you can never be sure if that's true or not. So I have started worrying about this too… *sigh* Don't know what to do. The motherboard's ATX connectors were melted above, the reasons for it were stated as either the ATX connector was not tight or the system was sucking up too much from power supply. Too much as in exceeding the power supply's so called LABEL. Came across this OCZ 520 Watt power supply, am liking it but it's costing 90 – 120 US$!!! Freakin too much plus I have nothing left to spend! PLUS, no OCZ in Pakistan :\. Hehe. So my birthday is coming up on 26th…LOL. Let me know if you want to gift it to me. I know everyone here is kanjoos :p. Hehe.
Oh & set this up so it could run Vista also insha'Allah! The 3D card is not a really good one. Waiting for DirectX 10 Compatible 3D cards to arrive in shelves! Plus, will upgrade RAM too gradually insha'Allah.
SOURCE Check it out. Mr. Pope seems like a PIG. Muwahahaha. What? I am expressing my right for "FREEDOM OF SPEECH" ;-).
A statement from the Vatican has failed to quell criticism of Pope Benedict XVI from Muslim leaders, after he made a speech about the concept of holy war.

Speaking in Germany, the Pope quoted a 14th Century Christian emperor who said Muhammad had brought the world only "evil and inhuman" things.

The head of the Muslim Brotherhood said the Pope's remarks "aroused the anger of the whole Islamic world".

The Vatican said the Pope had not intended to offend Muslims.

"It is clear that the Holy Father's intention is to cultivate a position of respect and dialogue towards other religions and cultures, and that clearly includes Islam," said chief Vatican spokesman Federico Lombardi in a statement.

But in spite of the statement, the pontiff returned to Rome to face a barrage of criticism from the Muslim world over the remarks, reports the BBC's David Willey in Rome.

Violence and faith

In his speech at Regensburg University, the German-born Pope explored the historical and philosophical differences between Islam and Christianity, and the relationship between violence and faith.

Stressing that they were not his own words, he quoted Emperor Manual II Paleologos of the Byzantine Empire, the Orthodox Christian empire which had its capital in what is now the Turkish city of Istanbul.

The emperor's words were, he said: "Show me just what Muhammad brought that was new and there you will find things only evil and inhuman, such as his command to spread by the sword the faith he preached."

Benedict said "I quote" twice to stress the words were not his and added that violence was "incompatible with the nature of God and the nature of the soul".

'Angry and hurt'

The Pope's "hostile" remarks drew a demand for an apology from a top religious official in Turkey – where he is due in November on his first papal visit to a Muslim country.

Ali Bardakoglu recalled atrocities committed by Roman Catholic Crusaders against Orthodox Christians and Jews, as well as Muslims, in the Middle Ages.

In Egypt, Muslim Brotherhood head Mohammed Mahdi Akef said the Pope's words "do not express correct understanding of Islam and are merely wrong and distorted beliefs being repeated in the West".

In a statement, he was "astonished that such remarks come from someone who sits on top of the Catholic church which has its influence on the public opinion in the West".

Sheikh Youssef al-Qardawi, a prominent Muslim cleric in Qatar, rejected the Pope's comments, in remarks reported by Reuters.

"Muslims have the right to be angry and hurt by these comments from the highest cleric in Christianity," Mr Qardawi reportedly said.

"We ask the Pope to apologise to the Muslim nation for insulting its religion, its Prophet and its beliefs."

The 57-nation Organisation of the Islamic Conference also said it regretted the Pope's remarks, and news agencies reported a furious reaction on Islamic websites.
Do you now have idea what I am talking about? Seriously, they should name Amnesty International to something like Amnesia International. Came across a report by them today, it states, "Under fire: Hizbullah's attacks on northern Israel". Just go and read it. I hate it the most when such Organizations, calling themselves as working for HUMANITY issues such reports. A few points in this report:
According to the Israeli authorities, 3,970 rockets fired by Hizbullah landed in Israel between 12 July and 14 August, 901 of them in urban areas.(4) More than 1,000 landed in the Kiryat Shmona area, 808 in or near Nahariya, 471 in or near Safed, 176 in or near Carmiel, 106 in or near Acre, 93 in or near Haifa, and 81 in or near Tiberias. Almost a third of Israel's population – more than 2 million people – were within range of the rockets launched from south Lebanon.
"We do everything in fear. We eat in fear, we sit in fear. We shower in fear. We sleep in fear."
An occupant of a shelter in Nahariya, northern Israel, 6 August 2006
Use common sense. Israel had full Lebanon under their eyes. They could bomb any any where in Lebanon. On the other hand, Hezbullah did not have any such advance war machines. Just go to this report, makes you feel Israelis are coming directly from heaven whereas all others are born out of hell. I hate this kind of attitude. If you are talking about "HUMANS" then please don't make any sort of exceptions. Amnesia International have also report about Israel violating International laws and everything BUT the tone of that report is not as this one. It should have also said, "Under fire: Israel's attacks on Lebanon" but no.
According to the UN Mine Action Coordination Center, more than 400 areas targeted in Israeli attacks are now contaminated with as many as 100,000 unexploded bomblets. Israeli forces carried out 90 per cent of their cluster bombs strikes In the last 72 hours of the 34-day conflict – when a ceasefire was in sight – according to a senior UN official.
100,000 "unexploded" bomblets! 90 per cent of their cluster bombs strikes in the last 72 hours of the 34 day conflict? When a ceasefire was in sight? Is this less than Hezbullah's reasons to be UNDER FIRE. Is it not a proof of Israel behaving bad in this war? and anyways. Israel was the one who started it. You don't make it under fire but you do that for Hezbullah.
The Israeli Air Force launched more than 7,000 air attacks on about 7,000 targets in Lebanon between 12 July and 14 August, while the Navy conducted an additional 2,500 bombardments.(1) The attacks, though widespread, particularly concentrated on certain areas. In addition to the human toll – an estimated 1,183 fatalities, about one third of whom have been children(2), 4,054 people injured and 970,000Lebanese people displaced(3) – the civilian infrastructure was severely damaged. The Lebanese government estimates that 31 "vital points" (such as airports, ports, water and sewage treatment plants, electrical facilities) have been completely or partially destroyed, as have around 80 bridges and 94 roads.(4) More than 25 fuel stations(5) and around 900 commercial enterprises were hit. The number of residential properties, offices and shops completely destroyed exceeds 30,000.(6) Two government hospitals – in Bint Jbeil and in Meis al-Jebel – were completely destroyed in Israeli attacks and three others were seriously damaged.(7)
Which side lost the most in regards to "Humans" and "Civilans"? Lebanon…then why don't you first pressurize Israel and talk later about Hezbullah. The reports also were sort of saying Israelis were in bomb shelters for a month and bla bla bla. They were atleast in "bomb shelters"! Where were the Lebanese hiding? Israelis I am sure, their military services or civil services were there during all this time because Hezbullah did not have the upper hand in "FIGHTER PLANES". So Israelis were being provided food etc. properly by their Government. It was not Hezbullah issuing statements like, "Any vehicle on the move will be targetted". It was Israel which said that. So it was not anywhere near possible for the Lebanese Government to assist their civilians during the conflict & inspite of all this, Hezbullah is blamed the most and Israeli civilians are said to be effected the most.
Even the guys in the UN have the same problem. You had to ask Israel to stop their attacks, not Hezbullah. Hezbullah was not the one who advanced into Israeli territory, it was Israel which advanced into Lebanon. Any country have a little shame will resist such a thing.